This documentation is for operators that typically utilize Firefox browsers and has just the operator console open without any other Firefox windows. If you typically have other Firefox windows open AND the operator console at the same time, this will not be an issue.
This documentation is ONLY for situations where the chat operator has just the operator console open on the Firefox browser and no other Firefox windows are opened.
There seems to be a bug in Firefox in opening new windows in a popup window. For example, if a popup window is opened using JavaScript window.open function, and then all other Firefox windows are closed EXCEPT the popup window, the external links in the popup window does not open when clicked.
This bug will ultimately effect the operator console if all other Firefox windows are closed and only the operator console is open. The cause of the issue is due to Firefox bug of not recognizing a popup window as an opened Firefox browser. If only the popup window is opened, all links in the popup window will not process. There is workaround and here is what you will want to do:
There are couple workaround methods. Method A is suggested.
Method A:
Simply right click on the link and choose the option to open the link (new tab, new window, private, etc)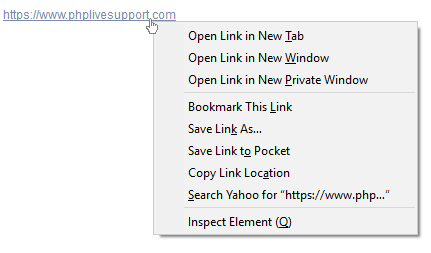 Method B:
Open the Firefox browser and access the "Options' area by clicking the top right settings menu.
On the "General" area, make sure the "Open new windows in a new tab instead" is not checked.

Done!